My new book is out in Japanese and English, dedicated to my wife of 11 years. I decided what better way to honor her than to write a letter to her every weekend and publish a book in her honor in Japanese and Engish. Available for purchase here: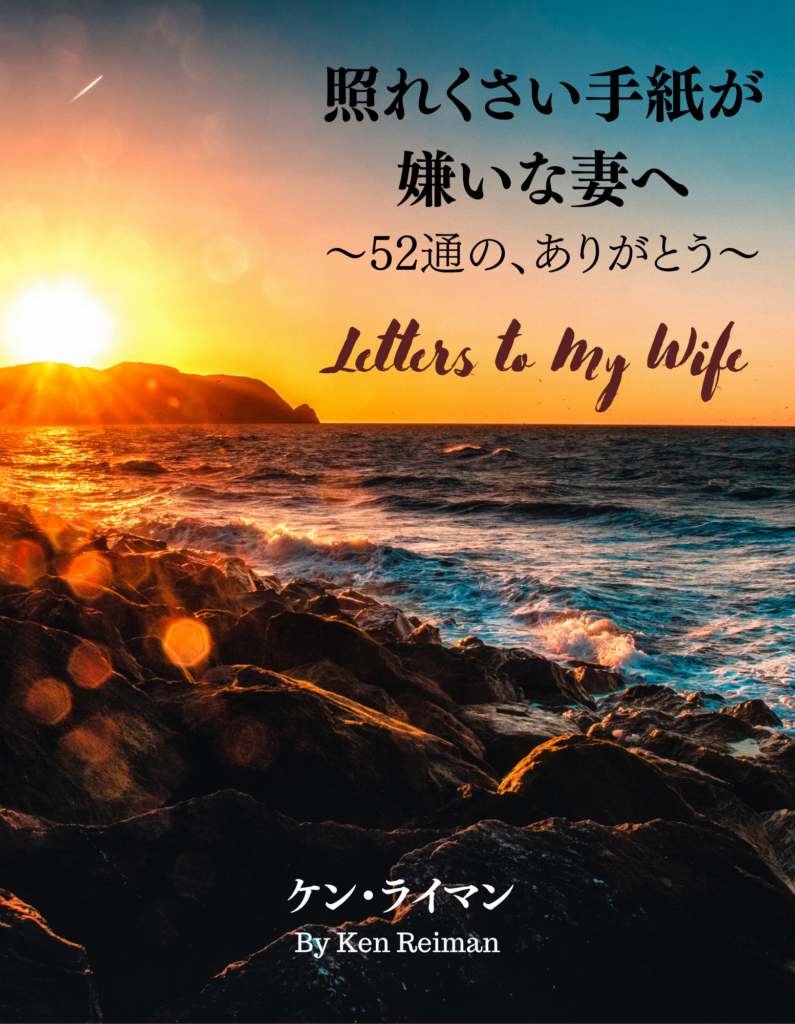 The title of the book is:
照れくさい手紙が嫌いな妻へ: 52通の、ありがとう
To My Wife Who Hates Embarassing Letters: 52 Letters of Thanks
本の紹介:
妻との11年目の結婚生活へ向けての1年間、毎週土曜日に妻へ手紙を書くことにした。本作は、妻と子と、神に対するあふれんばかりの感謝を込めた52通の手紙を収めたものである。それぞれの手紙は11年の結婚生活を記念して11文で構成されている。妻をどれだけ愛しているか、妻に対してどう感じているのか、彼の気持ちを彼女に伝えるのに、あと10年待ってからでは遅すぎる。彼は書いた。手紙は夫婦の絆を深めうるということに彼は気付いたのだ。手紙を書くことで、彼の心に彼女が広がり、感謝の気持ちが湧いてくる。週末ごとに、彼はそんな特別な方法で夫婦として繋がることができた。まだ小さくて活発な、二人の男の子(7歳のジョンと4歳のマックス)の共働きの親として、お互いに自分の時間の確保が難しい日々。彼が土曜日の朝に書き続けたこの手紙は、苦楽を共にしてくれた妻へ感謝を表すと共に、妻が彼にとってどれだけ特別な存在か再確認する機会となった。絵理子は彼の愛する妻であり、友人であり、同僚でもある。
After 10 years of marriage, I decided to write a letter to my wife each Saturday of the week for an entire year. This was the start of 52 letters to my wife. Each letter is composed of 11 sentences to commemorate 11 years of marriage. The letters touch upon themes of family, faith, and children. I simply wanted to express how I felt about my wife and I did not want to wait another 10 years to tell her how much I love her. I learned that a simple letter could strengthen our relationship further. I could express my feelings more intimately. It allowed her access into my heart and feel appreciated. We were able to connect each weekend as a married couple in a special way. As the busy parents of two young, energetic boys (John aged 7 and Max aged 4), we often do not have time for ourselves let alone each other. My Saturday morning letter writing ritual gave me an opportunity to express my gratitude and carve out a space to let the person who has been by my side through ups and downs know how special she is to me. I am truly blessed to have a loving wife and friend and confidant. Sending you 52 letters with love.